---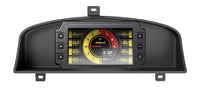 The Nissan Skyline R33 cluster mounts suite all 9th Generation Nissan Skyline series vehicles. Both left hand drive and right hand drive variants.
This mount is a plug-and-play mount which replaces the factory cluster allowing you to mount you aftermarket dash as cleanly and easily as possible. With some larger dashes such as the Motec C127 you will need to cut a slot into the plastic trim below the cluster to create the required clearance. This will not be visible once the install is complete and the surrounding trim has been put back in place.
Simply remove your OEM cluster, install your mount and wire up your new dash. The surrounding trim then screws back in place in front of the mount to get a clean, OEM look on the finished install.
Select your aftermarket dash and we'll cut all the mounting holes for you perfectly everytime. If you want the cleanest the install possible, upgrade to the recessed pocket option so that the screen of your display sits flush with your new mount.
These mounts are made from ABS plastic similar to most OEM interior trim pieces. We also make sure to overengineer all of our mounts so that even as your 1000hp+ motor shakes the bolts loose on your car your cluster mount will never fail.
Mako Motorsport products are designed and sold for racing use only.