---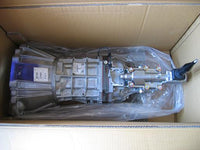 Brand new OEM Toyota R154 Gearbox. Gearbox comes with a JZ bellhousing and shifter assembly ONLY.
Gearbox is the non-remote style from a JZX110. It is 745mm long from the bellhousing to the centre of the shifter.
Gear ratios:
First Gear: 3.251:1
Second Gear: 1.955:1
Third Gear: 1.310:1
Fourth Gear: 1.00:1
Fifth Gear: 0.753:1 
Perfect for anyone looking to marry up a manual gearbox to their JZ engine for a good price.