---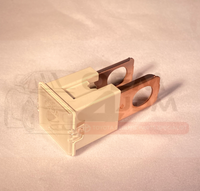 Genuine Toyota OEM 120AMP Alternator Fuse.

These are very common to accidentally get blown by people working on their cars without disconnecting the battery and to find a replacement with the direct fitment is always very hard or modifications to an aftermarket unit have to be done. With this unit its unbolt the broken one and bolt this one straight in.

Note: This product does not come in the OEM Toyota packaging, as Toyota doesn't sell this item usually individually.
This does suit multiple chassis, including Aristo, chaser, crown etc.