---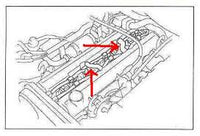 OEM Toyota 2JZGTE crankcase breather hoses. 
These hoses are always hard and brittle if you are trying to change spark plugs or replace anything in that area of the engine. Definitely on the buy list if you are freshening up your engine.

Note: This listing is for multiple options, please select if you want a single hose or a pair.