---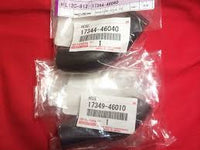 Genuine OEM Toyota 2JZGTE Blow Off Valve Hoses for a JZA80.
These hoses are always hard and brittle if you are trying to remove the stock twins or replace anything in that area of the engine. It isn't a common size of hose to come by either. Definitely on the buy list if you are freshening up your engine.


Note: This listing is for multiple options, please select if you want a single hose or a pair.