---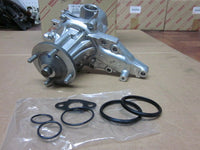 1JZGTE & 2JZ GTE Toyota Genuine OEM Turbo Waterpump Complete Assembly - 16100-49847.
A must when building a new engine or when servicing your pride and joy. For the price of this item and the job it has to perform it is madness not to replace it.

Note: This product comes with all o-rings and gaskets to install it back on the engine. This listing is either for the JZGTE Non-VVTI (91mm PCD Hub) and the 2JZGTE VVTI.

Included:
Thermostat O-Ring
Bypass Pipe Rear Gasket
Waterneck O-Ring x 2
Waterpump to Block O-ring