---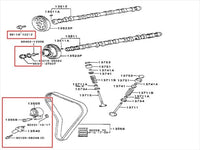 OEM Toyota 1JZ & 2JZ Timing Idler Bolt.
This holds in your timing belt idler and if you starting with a fresh motor why not replace this also.

Note: There is an option for the bolt only or for it to include the washer that goes behind the idler. - Please use sealant on these threads as instructed in the workshop manual.