---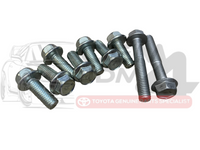 Toyota 1JZ & 2JZ Oil Pump Short Bolts x 7 & Long Bolts x 2.
Great if you are building a fresh motor and don't have these bolts. The oil pump requires all 9 of these to bolt the pump onto the block which is what this listing is for.
Note: This product does not come in the OEM Toyota packaging, as Toyota doesn't sell this item usually individually. This is for a set of 9 bolts.