---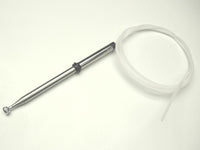 OEM JZA80 Supra Antenna Mast.

This is a replacement mast and cord for the stock antenna assembly. The whole motor and assembly is discontinued but you find the plastic does go brittle over the years and snaps the cord which is why they do not go up and down.

Note: This product does come in the OEM Denso packaging, it was just removed for site image.